Had I written this yesterday right after my run, it would have been the most amazing thing I may have ever written but now a day later, and I'm not quite sure how I feel.
Lets talk about the amazingness of yesterday's run first though because it truly was one of the BEST runs I have ever run, so far!
I guess it doesn't really start on Sunday, it started Saturday night when I decided to head to Pei Wizzle and indulge in an amazing bowl of Pad Thai worth 40PP, and lemme tell you, it was thebomb.com.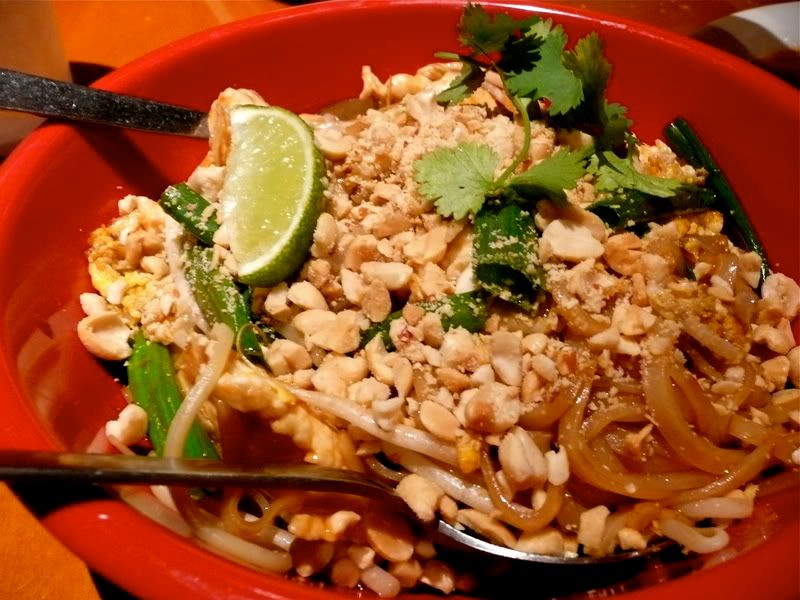 Not my bowl, but hot damn..doesn't it look delish! Source
Seriously, I couldn't remember the last time a) I had Pei Wei and b) that I enjoyed it that much. Eating out less is not only friendly for the waist line but for the taste buds too! =D
So yeah, 40PP equates roughly to 1500 cals for this amazing bowl of goodness but the truth is this, 8 miles is a huge distance and I needed/wanted to carboload. Did it make a difference? Abso-fricken-lutely!
Anywhoo..so Sunday I had my typical brunch of southwestern omelet, sides of meat and a hashbrown. Took my A&P Exam which I did fab on...thank god since the last two tests were meh, had a sunrise energy bar covered with peanut butter and took off.
Sunrise bar NOT covered in peanut butter
The sun was shining, the temperature was warmer than it had been, and overall I was just in a great mood! I also told myself that I needed to start out slow. I really hit a wall on my Friday's run probably because I had a lot of 8 min/mile spurts in there and my body just can't handle 8 min/miles yet.
So my first 5 minutes started of slow...mainly because I was trying to warm up
1st min: 17:20
2nd min: 18:28
3rd min: 13:43
4th min: 12:02
5th min: 11:58
After that I tried to get into my regular pace...or lets say my desired race pace..anywhere in the 10 min/mile range..
My mile times:
1st mile: 12:55
2nd mile: 10:22
3rd mile: 10:15 - Took my first 1/2 fuel
4th mile: 10:21
5th mile: 11:14
6th mile: 10:05 - Took my second 1/2 fuel
7th mile: 10:34
8th mile: 9:31
I think my 5th mile was a little slower since I had to run uphill, as well as against the wind but it was also this mile where I really got into my groove. Sorta sucks that it took so long since I was only running 8 miles, but at the same time, after that I felt like I could run my half marathon distance!
I was mentally and mostly physically in-line on this run, I wish I knew exactly what it was but I don't so I'm gonna say that adequate pre-run fuel (the noodles, being properly hydrated) played a huge role in my mentality.
Lets talk about mile 7...
Saturday I started feeling a pain in my left lower ankle/calf..nothing major but a dull pain. Hell, I don't even know how I got it since I wasn't running..I'm thinking maybe from jumping jacks, jumping etc without shoes on. I usually workout without shoes at home if I'm doing things in the living room like DVD's.
The pain was still there on Sunday but I decided to head out for a run.. it felt the same until I hit mile 7 where it totally flared up. It wasn't debilitating but it definitely hurt, I pushed through it and still felt amazing given my time, my endurance, etc., but the as soon as I quit running, I began hobbling. It just fricken hurt!
Thanks to Twitter, I quickly put some peas on it to start icing and although it is better today, it's still sore. I should mention that my right left leg has the same pain but not as bad as the left felt.
I have no clue what to do or what's going on?! Today is a rest day which I am totally honoring. I'm taking cardio off the plan for tomorrow too, and depending on how I feel may do my strength training routine but I'm terrified this may be an overuse injury, but wouldn't it have happened while I was running, and not doing some cardio?
I feel so invested in not only this race but the entire vacation that I'd be devastated if I were to be sidelined, but even more importantly what if this is something serious?! I can't go to the doctor.
I'm just really bummed and fear I may have jinxed myself with
this post
.
Although I'm thrilled that I performed amazingly yesterday, I'm also really, really worried that this could be something more serious.
Thoughts?
Experiences?
Words of encouragement?

Please send positive, healing vibes my way... my ankle/calf could really use it!